so... the memoir fest is going well. Siri Hustvedt is done - it was great though sometimes a little hard going with lots of references to Freud and case histories of people. Am about half way through the Candia McWilliam which am loving - it feels pretty divorced from my life what with dating Loyd Grossman when he was called Jet Bronx, private school, cambridge, working at vogue, marrying an earl, alcoholism, going blind..etc etc but am really enjoying it, it's wonderfully honest, and even though it deals with lots of quite harrowing things it's never maudlin or depressing, it's much more matter of fact in a kind of -this is what happened to me and am fine- sort of way. I really recommend it.
I've just been to the library to pick up
A Widow's Story
by Joyce Carol Oates.... for some reason I thought that it would be quite a small book... but it's pretty much the same size as Candia McWilliam coming in at just over 400 pages. As you can probably tell from the title it's about being a widow and the death of Joyce's husband, I haven't started it yet, but it's making me think of the wonderful
The Year of Magical Thinking
by Joan Didion. Will report back on how it goes.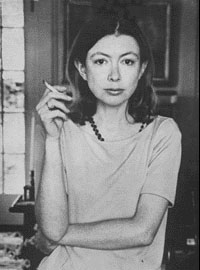 the fabulous Joan Didion
I also got
The Seas
by Samantha Hunt from the library - Bert suggested it, and it looks good. Dave Eggers says that Hunt is 'One of the most distinctive and unforgettable voices I have read in years.' I pretty much trust Dave Eggers with my life (I don't actually know him, but for quite a while back in the time of
A Heartbreaking Work of Staggering Genius
I thought we might one day get married) and certainly trust him with my reading material.
From one San Francisco heart throb to another .. it's Lawrence Ferlinghetti's birthday! the wonderful wonderful man is 92 today (i think).
citylights
is the best bookshop in the world!